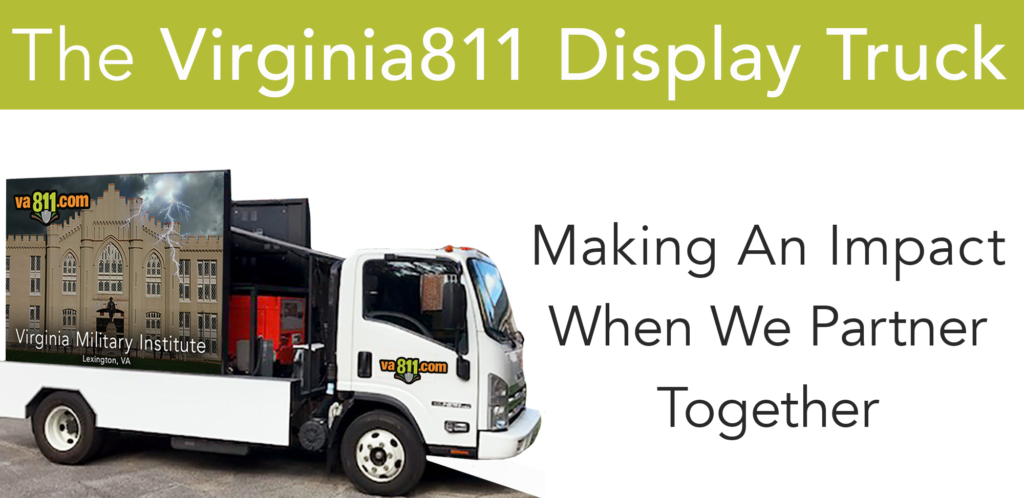 Looking for a unique way to promote your
business, services or events?
The Virginia 811 Display Truck offers our members, our excavator community, and in-kind businesses, an innovative marketing opportunity.
Stand out from the crowd by partnering with the Virginia811 Display Truck.
Combining your message with ours is a win-win for everyone.
Best of all…. it's free of charge!
Reserve the Virginia 811 Display Truck
The Virginia 811 Display Truck Advantage:
At Virginia 811 we strive to support and promote our members and partner communities in Virginia while spreading awareness of safe digging practices. 

The Virginia 811 Display Truck offers a larger-than-life impact right where your customers are. Your message stands out in front of your business, venue or any high-traffic area reaching your target audience with the combined power of your brand message and the Virginia 811 Safe Digging  Message. 

The Virginia 811 Display Truck is perfect for events and marketing campaigns like:
New Product Launches or Promotions

Public Service Announcements

Public Interest Campaigns

Marketing Campaigns

Grand Openings

Employee Hiring Ads

Large Company Gatherings

Special Events

Messages in Different Languages

GET NOTICED… 
It's hard to ignore a 16′ x 6′ full LED screen with high resolution and contrast! Thanks to new advances in technology, our video format capabilities (videos, images, gifs) are more engaging than stand-alone static images. 

MESSAGE FLEXIBILITY…
Flexibility is the name of the game. You have the creative freedom to choose between several messaging options. For example, promote an unlimited number of images in a playlist, or video – with or without sound. You can also display multiple messages on 3 different sides of the truck, or use the full 3-panels to display a 16′ x 6′ image or video for maximum impact. 

EASY SET-UP…
Virginia811 truck displays require minimal setup by our driver (usually less than 15 minutes). The truck is equipped with its own generator and power source. And as long as we have your audio and graphics, we're good to go! We'll work on the details with you ahead of time so that setup takes no time at all.

HOW LONG DOES THE TRUCK STAY AT EACH LOCATION?**
We schedule our truck stops for maximum traffic exposure. A typical display truck stop ranges from 1-2 hours depending on your event and our truck schedule for the day. If you have specific needs or a multiple-day event, please include your event details in the Time of Event section of the online Display Truck Request form.

CREATIVE ASSISTANCE…
Need help with art or copy? No problem! Let the Virginia811 design team create high-impact display truck displays that effectively promote your message and the Virginia811 Safe Digging Message. 
COST…
The Virginia 811 Display Truck is free of charge!
ARE YOU READY TO HIT THE ROAD…?
Make your Virginia Truck Display reservation today!
Virginia 811 Display Truck Specifications
Truck Base
2015 Isuzu NPR
Closed Panel Dimensions
The height, measured from the ground to the top of the car is approximately ranges 89 inches.
The width is 81 inches across all variants. The length ranges from 202 to 289 inches.
Open Panel Dimensions
3-panel display is 16′ x 6′
Screen Specifications
2048 pixels X 576 pixels tall
Accepted Formats
JPG, PDF, MP4, PNG