Damage Prevention Information for Kids!
http://call811.com/get-involved/811-kids – This website provides information on the CGA's Community Service Award and a great video explaining why you should call 811 before digging!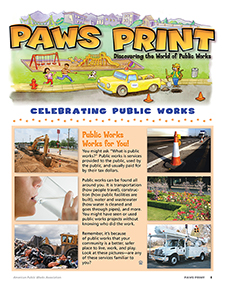 Kids can discover the world of Public Works by checking out the PAWS Print from the American Public Works Association! This newspaper gives an overview of public works, talks about the 2015 public works theme "Community Begins Here" and highlights the Interstate Highway System, tree planting, and public works employees responding to emergencies.