New Online Training Site Aims to Educate Safe Digging Partners About Best Practices, Notice of Excavation Requests, and More!
Roanoke, VA – Imagine having training available at the touch of a button and on your schedule! Virginia811, the not-for-profit organization created by Virginia's utilities to protect their underground facilities, has launched a new online training program to do just that.  The training, called Virginia811 Academy – Safety Through Education, is designed to leverage online learning technology to educate our partners about damage prevention and best practices. 
The Academy contains several educational videos and other online tools to teach professional excavators how to accurately enter underground utility location requests using Virginia811's Web Ticket Entry platform.  Professional excavators will no longer be required to take in-person or live, virtual training sessions, but will have the option to take advantage of the Academy's online resources so they can become qualified to enter their own requests online as opposed to calling 811.    
Contacting Virginia811 and filling out a notice of excavation before digging protects underground utility lines, the surrounding community, and most importantly – lives.   This new WTE online learning will give professional excavators an easy-to-use platform with options for getting started with processing a ticket to more advanced instruction on how to process more complex tickets. Self-directed learning modules containing diverse instructional materials will engage participants as they familiarize themselves with the software used to process tickets in order to notify utility members and locators so underground utilities can be marked.  Each training module is designed to walk users through the process step-by-step and can be completed at their own pace.  
Users can choose one of three training methods to best match their learning style.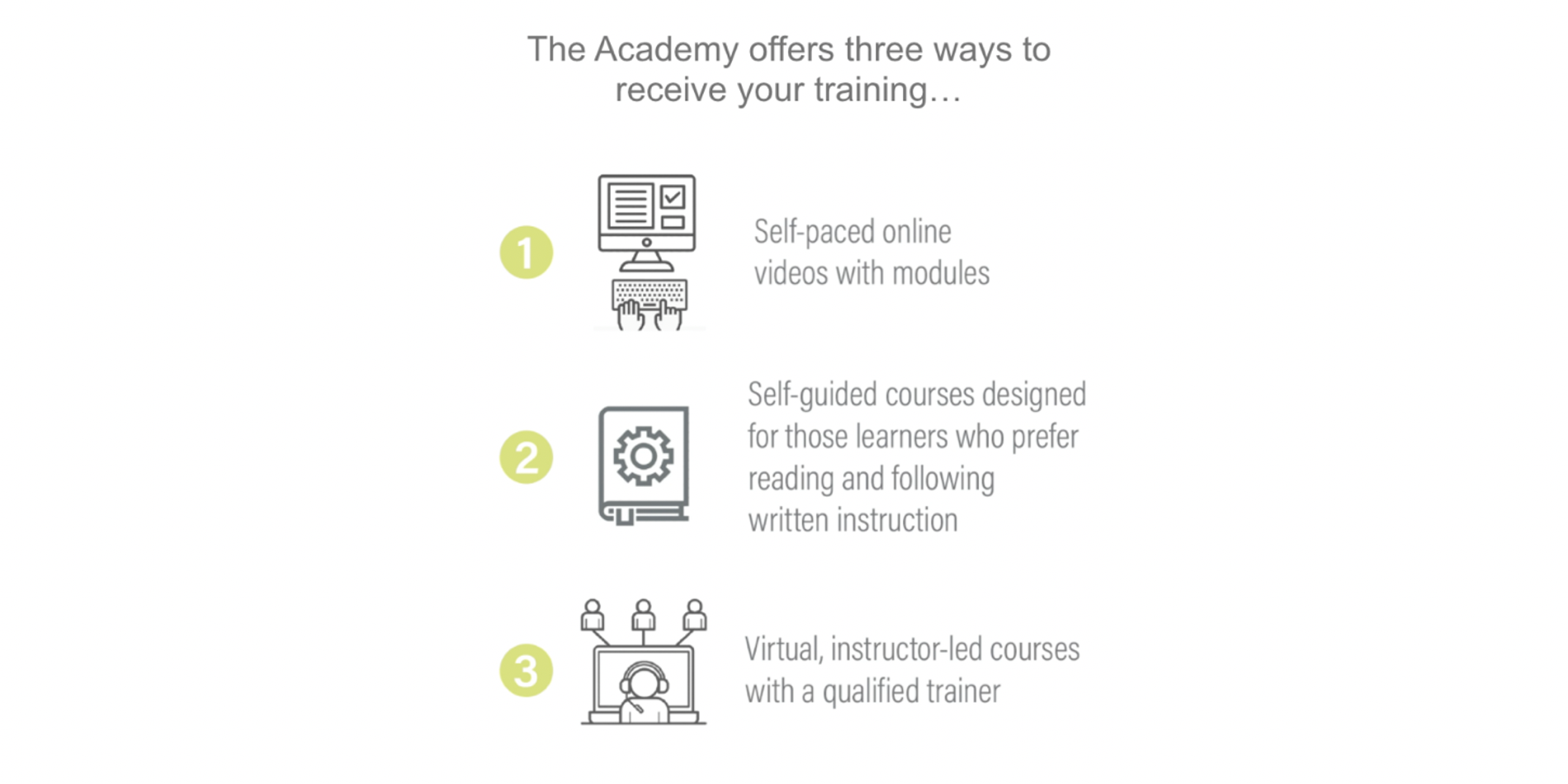 The self-paced online video course consists of watching short video modules and taking a series of quizzes.  The self-guided course is designed for those learners who prefer reading and following written instruction, and a virtual, instructor-led course is conducted with a qualified trainer that is scheduled by appointment.  Users can visit and sign up for training at Academy.va811.com.
 "With the launch of the Academy, those taking advantage of Virginia 811's web ticket entry platforms will have an unprecedented level of online support, ensuring they have the resources they need to enter accurate locate requests for dig sites throughout Virginia," explains Scott Crawford, President & CEO of Virginia811.   "We are excited about the ways we can leverage online learning platforms and options to better engage our stakeholders and continue to do our role to protect underground utilities throughout the Commonwealth, helping to protect life and property."
The recent Pandemic has reminded us all the value web-based technologies hold.  COVID-19 undermined in-person instruction and training, yet video conferencing has allowed Virginia 811 to continue to offer WTE training opportunities.  The Virginia811 Academy will carry this value forward, with the direction of our Professional Development Specialist, Susan Painter, who will ensure a robust learning experience for participants.
"Teaching ticket entry for over 18 years has taught me that folks learn best when they are in a comfortable environment and can choose the learning method that best suits their learning style," says Painter. "We are excited that the Academy offers three methods of learning so that everyone who wants to process their own tickets can learn to do so at their own pace and on their own schedule."  
To officially launch the Academy, Virginia811 has created the following schedule: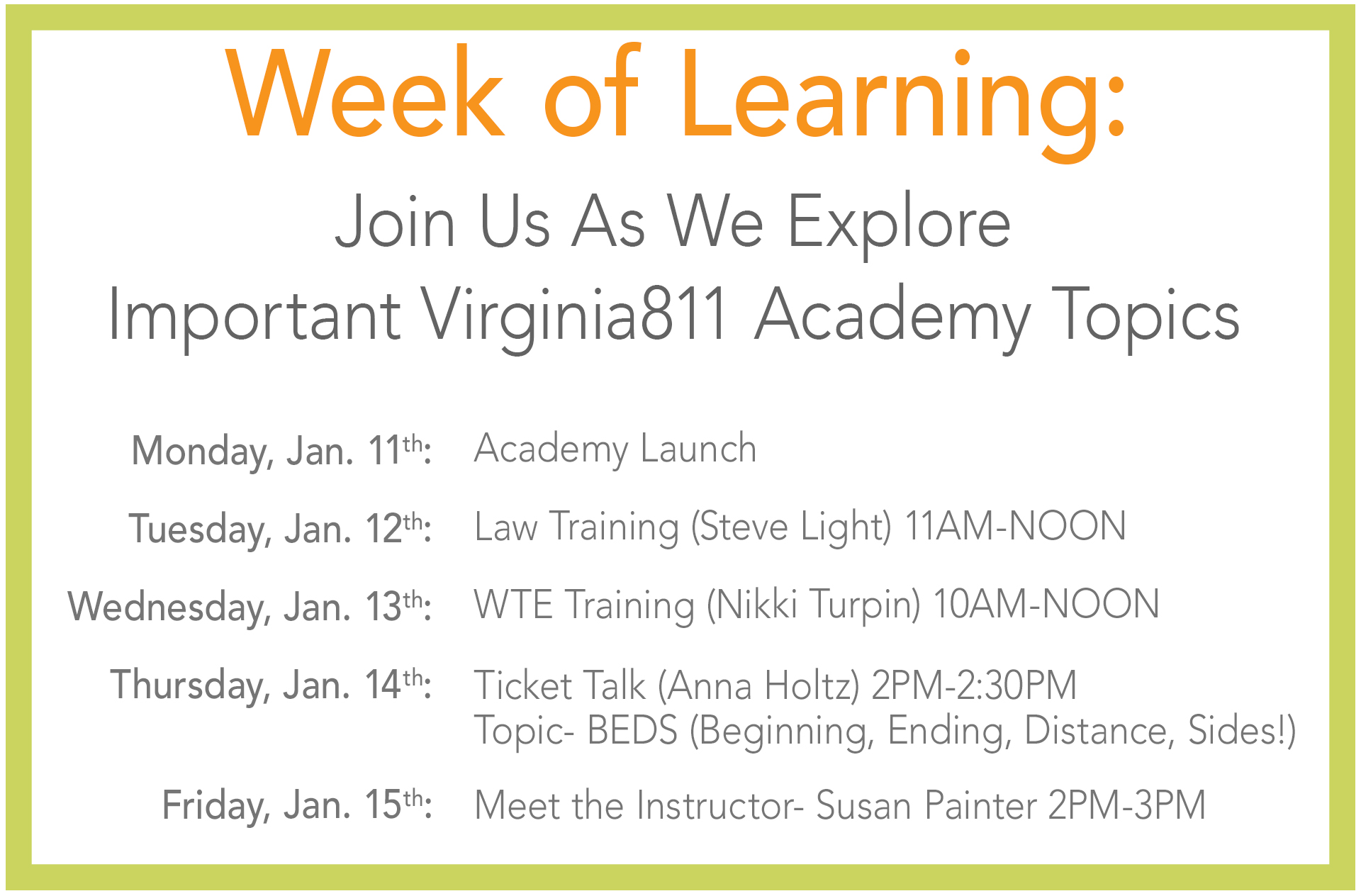 For more information about the training program, please reach out to Natalie Soucie, Head of Marketing and Communications at [email protected] or (540) 529-2785.
About VA811
Virginia Utility Protection Service, commonly called Virginia811, ​ is the not-for-profit organization created by Virginia's utilities to protect their underground facilities. Find more information and safe digging practices at www.va811.com