8-1-1 Pizza Deal
August 11th or 8-11 is
NATIONAL SAFE DIGGING DAY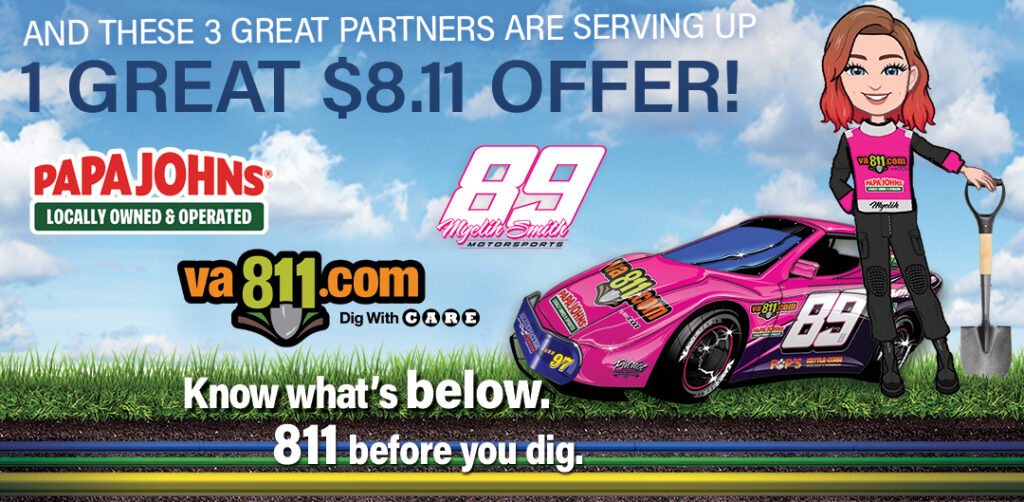 Dig Into Your PROMO CODE :
8-1-1 DAY
Virginia 811 and Papa Johns are proud to sponsor Myelih Smith Motorsports. And for 8-1-1 National Safe Digging Day, we could think of no better way to partner together than to deliver up a sizzling hot offer that everyone can dig into!
8-1-1 Day serves as a natural reminder for throughout the Commonwealth to contact Virginia 811 prior to any digging project to have underground utility lines marked. Every nine minutes an underground utility line is damaged because someone decided to dig without first contacting 811.
Whether you are a "do-it-yourself" homeowner or a contracted professional, before starting landscaping or home improvement projects, it is essential to protect yourself and stay safe when digging.
So dig into a Papa Johns $8.11 pizza on us this week. And always remember to contact Virginia 811 before you dig into the ground.